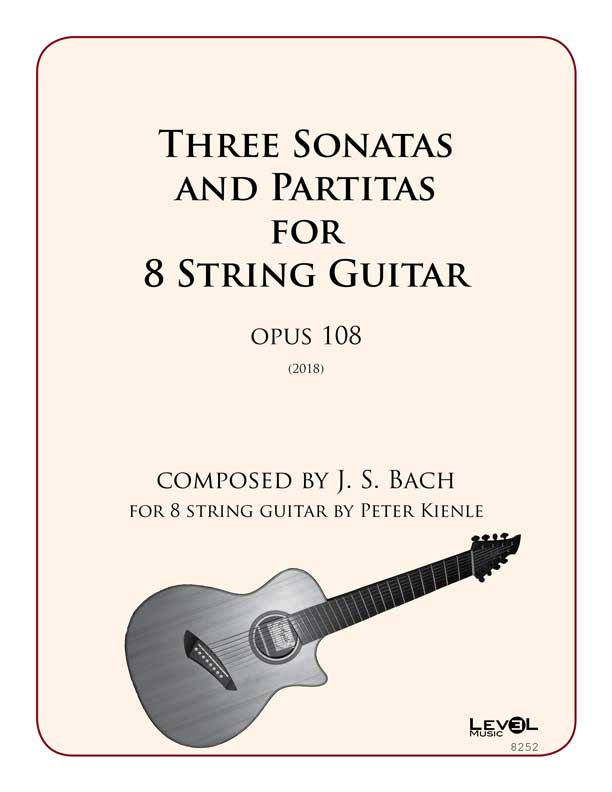 After fiddling with seven string guitars for a decade now, I found that it had not only expanded my horizon as a guitar player, but even more so infused new ideas and inspiration into my composing (not to mention the thourough exploration of rarely used keys). So, a few years ago, I thought maybe upgrading to eight strings might have the same effect. In a way it did – but more so because most of the time my musical brain just had no clue what notes were under my fingers on the 7th and 8th strings. Like a beginner I had to calculate rather the know what note was on a given position. 

On the seven string guitar I had run into the same problem, compounded by the fact that existing guitar literature doesn't offer much for extended range instruments. On the seven string I eventually adapted some Bach piano music to challenge myself to learn what that extra 7th string can do. For the eight string guitar I am working on new adaptations. This version of Bach's Three Sonatas and Partitas is originally for the violin. It turned out that transposing it down an octave and writing it in bass clef would lead to a good low range workout on the eighth string. I admit that some of the lower chord voicings can be a challenge. They are harder to finger because of the longer scale and therefore wider fret spacing. 

After I started playing through the whole set of pieces to check for accuracy I thought it might be a good idea to transpose some of them as low as possible. This would put them into new, unfamiliar keys and add even more challenges. For an added side effect the open strings in the lower keys come in handy in some spots. 

These are for a guitar with added B and F# strings, although, if you tune your extra strings to A and E it could also work. You can use a pick or your fingers or any hybrid approach you like. Unlike in the transcriptions from Bach's piano music, I didn't use any fingerings or TAB. The main purpose for me on this project is to challenge my sight reading. While my brain knows fairly well that the shell voicings (for example) replicate on the lowest strings, it still takes me an extra split second (and sometimes much longer) to intellectually grasp what note or chord I am playing. 

Thank you J. S. Bach for such gorgeous music.
Three Sonatas and Partitas for 8 string guitar is a free 178 page PDF.
---
Recently I released the full version of Trail Mix, a suite of original pieces for seven string classical guitar. The fourth movement was the first piece I wrote specifically on and for the seven string. It's a nice, melodic piece of music that developed itself out of the two opening chords. 5000 Miles of Dirt is the title of that movement which was inspired by a walk in the woods behind my mother-in-law's house in Germany, on a short trip to Europe in 2007. It was November, no snow yet, relatively warm. I had walked my old, well-explored trails from when I still lived in Germany. But I took one wrong turn and then got lost. This was late afternoon and the sun sets early in the Swabian Alps in late Fall. After losing myself deeper and deeper I encountered a power line and decided I should follow it back to civilization. It was a successful strategy, except that power lines don't usually follow a road or trail and this one mostly went straight across muddy fields. I eventually found my way back to the house – two hours late and with very dirty boots.
Surprisingly, I was able to find the mediocre recording I made of the fourth movement years ago. Often my classical guitar skills are lagging just a bit behind the music I compose. This commercial release contains numerous corrections, much more practical page turns, and two versions of each piece: one in just standard notation the second one standard notation with added tablature. While I am not a proponent for tablature per se, I think it makes sense to record fingerings that way.
---
I finally finished my most ambitious and complex big band arrangement so far. The two words "ambitious" and "complex" can only mean one thing: this contraption will probably never get played. But then, who knows. My friend Brent Wallarab, who directs the IU Jazz Ensemble, played two of my earlier pieces this past season and both of these were somewhat "ambitious" and "complex".
This one has a long history of revisions and false starts. It started out as a sketch in 15/8 meter, received a "B" section (that's the sing-along part) and the epic six bar solo vamp based on Bm11, C#m9 and Dmmaj7 which made it's earliest appearance in a piece for 7 string classical guitar called "Trail Mix". It was written early 2012 for "Splinter Group" and played live once or twice, but nobody really knew what do to with it – least of all I.
After I had my first successful encounter with big band arranging via my German friend Lothar Landenberger in 2014, "South Central Indiana Rain Dance" seemed like a worthwhile and rewarding big band candidate. I started with way too many chords and wrote myself into a corner. For testing drum grooves and flow I had done a little recording with guitar and sequencer. I liked the tribal nature of the tune, but just wasn't able to translate it into big band sounds. Then, as so often, other stuff came up and the project slipped towards the bottom of the to-do stack.
---
I am the first one to admit that over my entire guitar playing career, I have never had a really great guitar tone. Where many of my guitar playing colleagues developed into instrument and amp experts (dare I say nerds) and often spent substantial amounts of money on just the right, often vintage, guitar, this was secondary for me. There rarely was a gig in my career on which I didn't bitch about my sound (then again I heard other guitar players with much more professional equipment having mediocre tone and bitch about it.)
In the beginning years, this had much to do with the fact that instruments and amps of any kind weren't cheap. And I never had enough money. I think over the years, I simply learned to live with the flaws of my sound or tone. As a matter of fact, in the meantime I actually like the flaws and shortcomings of many of my instruments.
It's a bit different with amplification. While I really like my 100W Carvin tube combo, it's a little too powerful for many shows. For those smaller venues I had been using a 30W Epiphone tube amp until it blew up one night, emitting a pretty bad smell. It's still on my workbench for repair. It was replaced by a used Crate Blue Voodoo 60W combo which I would consider to be the best sounding amp I ever owned (contrary to many guitarists' opinions). I had bought the Crate used in 2014 and this Summer, 2017, it also fizzled out on a gig. This happened just before our European tour in June and it went undiagnosed and unrepaired until we came back (replacing all the power capacitors did the trick.)
Since it's a bit unrealistic to take an amp on an airplane these days, I was dependent on whatever backline the venue offered, although on the second half of the German leg, I was able to use a friend's Fender Classic 30. That was a sweet amp and fit well in the car. I had the iPad with me, thinking I would use it for guitar effects, but the small connectors are just a little unreliable. We did a show in Berlin where I used the house amp – I think a Yamaha Series II. Sounded okay, but fighting all night to get a halfway decent tone takes away from the playing. Then there was the club in Edinburgh, Scotland, which had a guitar amp I don't remember the brand of. It worked okay and after a while I just stopped worrying. Next night we rode the train to Glasgow. The club there only had a bass amp and a keyboard with a PA. That was when I was really grateful for the iPad. Going into the PA system straight from the iPad wasn't perfect, and having little control over the monitor speaker to actually hear myself, it wasn't very comfortable either. But, after I listened to the recording from that night, the guitar sounded actually quite good in the room.
---
After my first big band arranging experience in 2014, when I arranged a full concert's worth of my fusion originals plus some Pink Floyd and The Police material, I thought I was done arranging. While the concert in October of 2014 was a great success and I really enjoyed my two days of fame as frontman, composer and arranger of almost all of the music, after I came back to Indiana it was an anti-climax.
My friend Lothar, who had talked me into doing the arrangements in the first place, started bugging me again a few months after I was back home in Indiana. Somehow I didn't feel it and I didn't hear from my friend in a long while. Then, in January this year (2017) Brent Wallarab emailed about my arrangements. Brent is one top notch writer and arranger who (unlike me) knows how to do this stuff. He was interested in some interesting big band music for his Indiana University Jazz Ensemble – and they would even pay for the charts. He ended up picking two, "Bajao do Banana", which had been played at the Tuebingen Jazz & Klassik Tage 2014, and "Alice's Cool B***s" which is a piece that was originally recorded on "The Rise of Kwyjibo" and then got a big band treatment to become the grand finale of the show. But it never got performed because we ran out of time.
After Brent expressed his interest in my amateurish big band efforts, a new enthusiasm awakened and I thought I'd expand another of the tunes from "Peter's Money". "Diane's Doo-Doo" was the pick.
---